Isla mujeres is the land of beautiful sunsets, sunrises and shores. Isla Mujeres is an island off the shore of Cancun and is a must visit in the Riviera Maya! You can get there by ferry everyday. We visited back in May when we were still in Orange for COVID and our ferries had been reduced so be sure to be aware of the schedule and the price when you go! A one way ticket is pretty cheap ($15 USD) but a round trip ticket is actually a better deal.  We paid $420 pesos round trip ($22 USD) and the ticket is good for up to six months! Now that you know how to get there let's talk about 10 places to visit in Isla Mujeres.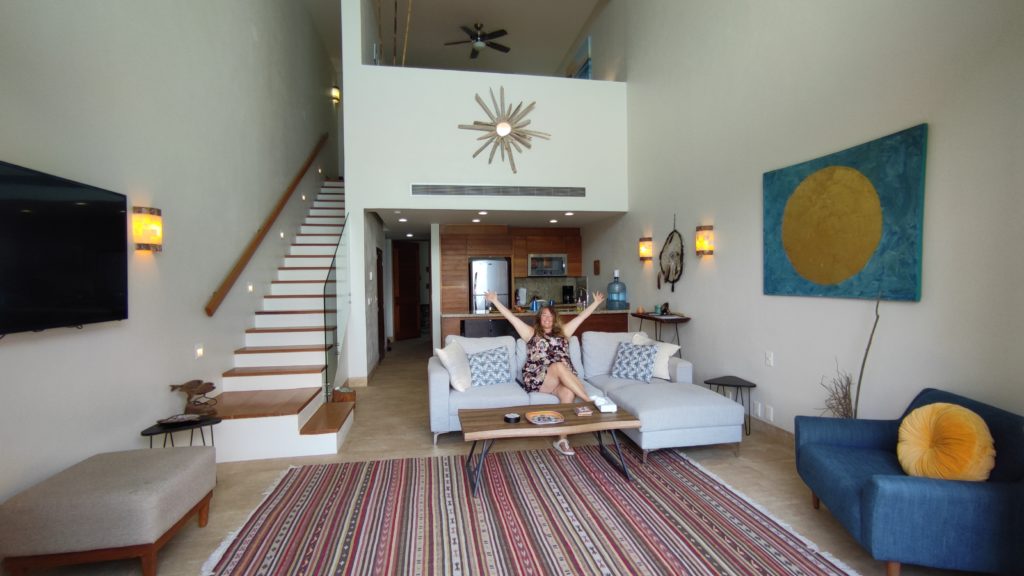 Before we jump in I want to mention where we stayed. This amazing 2 bed 2 bath condo is owned by Amy and Mike and features an 85 ft infinity pool with ocean views! Since they want to retire here soon they are renting in the meantime and I'm happy to help make their dream of living on Isla come true! If you guys use code Trishadvisor you'll get 10% off a stay of three nights or more. You can book it here. If you've only ever done a day trip I will say, come and stay at least stay 2 or 3 nights. Getting around the Island is super easy as well. You can rent a golf cart and explore on your own but don't forget that taxis and buses are very affordable! There are no official bus stops on Isla so flag one down, jump on and when you want to get off shout "Baja!".

#1 Punta Sur
The south part of the Island has some amazing views for you to take in and even has some Mayan Ruins. Find the little house at Punta Sur and purchase your tickets to see the ruins or have some drinks like we did at the restaurants under the umbrellas. This is the perfect place to spend the morning or afternoon with stunning views, lunch and drinks. Believe me the views are worth the visit alone.

#2 North Beach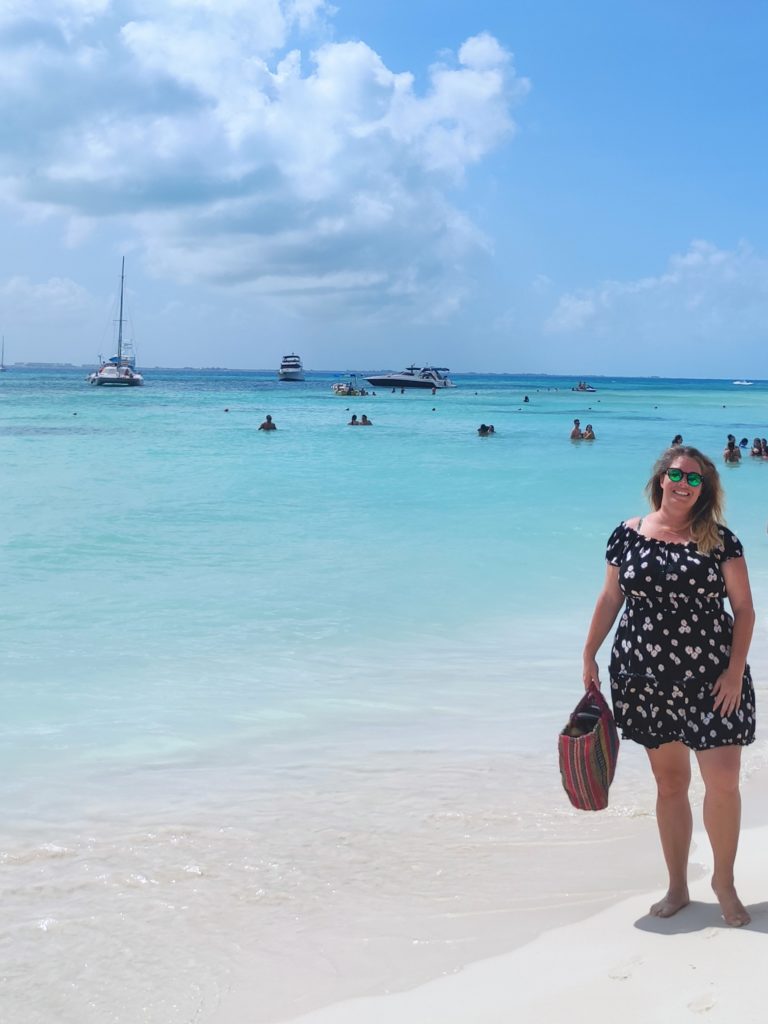 While North Beach is always a busy spot on Isla Mujeres I did notice it wasn't as busy in phase Orange but most chairs were filled. This is a perfect place to hang out, swim and snorkel. A lot of day trips from Whale Shark tours to Catamaran tours always make a stop on North Beach because it's so beautiful.
#3 North Garden
This restaurant serves breakfast and lunch with a jungle located right in the center. I highly recommend the coconut smoothie, shrimp tacos and aracherra sandwich
#4 Garaffon de Castilla
This beach club comes complete with snorkel equipment and showers making it the perfect place to go snorkelling. It's so beautiful here and you can see the reef as well as tons of fish.
#5 Women's Beading Cooperative

This literal gem was a great find. Immerse yourself in the art of bead making with these women and watch them create earrings, necklaces, bracelets and more right in front of you. All of the jewelry that you see is made on sight by local women and children and 80% of the profit from your purchase goes directly to the creator of the piece. Check the tag on each piece to see who made it and help contribute to this unique shop!


#6 Captain Dulce

This palace has a little bit of everything. Beach club, pool, cabanas, two bars, restaurant and especially an amazing place for snorkeling. I was loving the decor as well. Who doesn't love a giant ship with a sail in the middle of the palapa? There's an incredible pier as well.


#7 Kin Ha

This place was right next to where we stayed and is really beautiful. I think you guys will really like it! Complete with a restaurant, pool, bar, snorkeling, beach volleyball, beach club and another pier! This was one of my favorite places (maybe because I got recognized there by a couple from San Francisco who bought me a shot. Heyyyy). We had a salad and shrimp pasta here and both were delicious.
#8 The Joint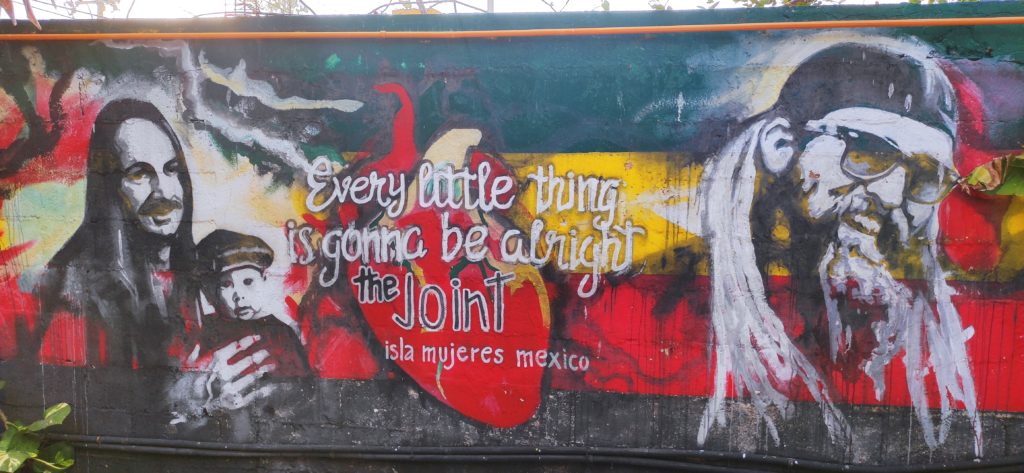 The Joint is a super cool bar that we chilled at and had some drinks at while listening to music. They played some good reggae music but I regret not trying the food! Everyone said it was amazing so we'll have to be back to see what all the talk is about.


#9 MUSA Underwater Museum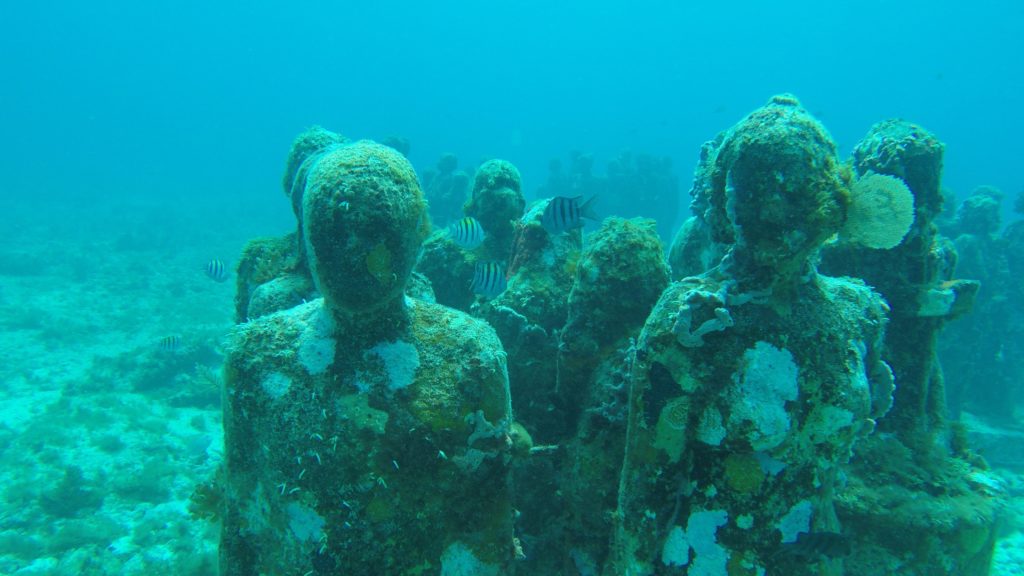 MUSA, as it's commonly known, is located between Cancun and Isla and is an underwater museum that was created to help reef growth in the area. It ranges from 20-60 feet deep and you can see all kinds of structures or statues while snorkelling with pieces of reef growing off of them. If you are interested in this tour please send me an email at MyTrishAdvisor@gmail.com.


#10 Soggy Peso

The Soggy Peso is known for their strong margaritas and crispy tacos and man did they deliver! Complete with a pool, restaurant, pier, amazing view, and a ceiling full of hats this palce was a hard one to forget (but the margarita tried hard). The crispy tacos are like the hard shelled tacos we eat in the United States ( a taste of Iowa in paradise lol). I would definitely say to come out to the pier around 6:45 pm and look at the sunset!! I will say the margarita is strong and I contemplated whether I would have to walk out, be rolled out or just dance on the bar all night long. Totally worth a visit!


On April 26 there was a horrible fire on Isla Mujeres that took out multiple businesses including a spa, a few restaurants and some retailers. While the town has been working hard to restore what was lost they could always use more help. Please consider donating to their GoFundMe.
To DONATE to fire victims:
Lean On Me Isla Mujeres (LOMI) is a registered charity 501 (c) 3.LOMI has the mission to assist Isleños in crisis rather it be from unexpected healthcare needs, food, shelter or other various types of crisis situations.
PAYPAL LINK: PayPal.me/islaLOMI
Follow them on Facebook here.

Have you been to Isla Mujeres? Where are your favorite places to go? Let me know in the comments and don't miss my YouTube video on 10 Places to Visit in Isla Mujeres